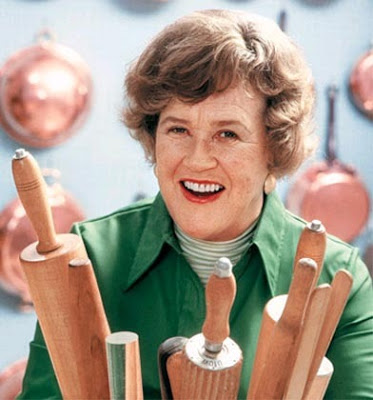 My favorite movie of the summer 2009, was Julie & Julia. Based off the book by Julie Powell, a frustrated New York bureaucrat who wants to become a writer. "But you're not a writer until someone publishes you," she moans. So she gives herself a challenge: to cook her way through Julia Child's Mastering the Art of French Cooking in one year, and to blog about it. As Powell (played with chirpy determination by Amy Adams), begins to find her groove as a cook, and her voice as a writer, the project takes on a life of its own–and in the end it does provide the struggling young woman with her life's purpose, to her very pleasant surprise. She found making meals and desserts delighted her and made her bad days, good, and her good days, even better. She loved cooking!
The wonderful feelings that accompanies being in the kitchen and creating meals, I related to.
I loved going to this movie with my oldest daughter for some much needed bonding time. I was switching from crying and blowing my nose in tissues one minute, to giggling with delight, the next.
Unbeknownst to me, my daughter didn't share the same movie experience and had her nose in her phone, giggling, while texting.
Anyway…
Needless to say, this movie inspired me to create French cuisine! We immediately ran to the nearest bookstore following the movie to buy Julia Child's cookbook on French cooking, Mastering the art of French Cooking 50th Anniversary
. My first recipe I tried was on a Sunday afternoon making her Boeuf Bourguignon. I could almost hear her distinct voice over my shoulder as I poured Chianti over my sliced carrots, onions, and stewed beef. The aroma wafted through my kitchen making me smile.
Food is a connection we all share. It is not only something we need for our bodies for nourishment, it feeds our souls. Food has a way of bringing people together. The aromas of a meal being prepared in the kitchen does more than tantalize our senses…it creates memories and traditions.
My
Planner Perfect Meals
tip is menu-planning.
As the old saying goes, "If you fail to plan… you plan to fail".
I know in our everyday busy lives and children under foot (or big with facial hair and a ferocious appetite), preparing a meal from scratch or even running to the grocery store seems like a huge undertaking. But fear not…meal planning, grocery shopping, and creating amazing meals in your kitchen can be done, and you can actually look forward to it. Being a homeschooling mother of seven, I can relate to the challenges of mealtime and hope to inspire you to love your kitchen! I hope to show you that with a little prep ahead of time you will not only have a wonderful easy, menu plan under your belt week after week, but you'll be organized, save money, have less "what's for dinner!" stress, and you'll be eating healthier!
If you're in the habit of running to the grocery store on the fly, this is the first thing to change. This makes mealtime a chore and you tend to spend more money than if you went prepared and with a menu plan.
My first tip would be to first pick one day out of the week that will be your grocery day. I use Mondays as mine and it serves me well. It provides me with the food and meals I need for the whole week. The day before, with some food magazines, Planner Perfect Meals, or your favorite cookbooks in toe, thumb through the pages and create a menu for the week. Once your menu is written, you can write out the details of your grocery list and what you'll need for your meals. I write mine out according to the layout of my grocery store. You'll find that picking out new menus for each new week ahead of time—fun. I write out my grocery list in my planner and simply tear it out before I leave.
Now, if only grocery shopping with a bunch of kids, that are noisy and unpredictable, be as simple!
Money saving tips for your grocery days can be as simple as clipping coupons, creating menus around the meats and produce on sale for that week, making meals from scratch and buying whole foods. It's all the isles in the middle of the grocery store we need to avoid the most; my children tend to eat all loot bought from middle isles the minute home from the grocery store! Moderation doesn't seem to come naturally when it comes to Cheetos.
Dinnertime woes are over, with this
Planner Perfect Meals
tip. It's easy, you'll be inspired, and hope you enjoy dinnertime, again, with all the smells of wonderful dinners wafting through your kitchen, making everyone smile.
Be sure to check out my videos on meal planning and much more, here.
Non-cooks think it's silly to invest two hours' work in two minutes' enjoyment; but if cooking is evanescent, so is the ballet
~Julia Child
*Snippets of the movie review on my post are from an editorial review*


Share some of your meal planning tips!