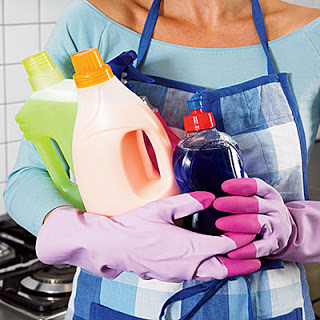 Get ready for the front coat closet, ladies! Get out all the vacuum cleaners, wrapping paper, and bouncy balls…it's time to get organized. The next step is to write it out in your planner when you're going to tackle it. That way you have that time allotted for it and you have what you'll need, such as bins.
Wouldn't it be wonderful to have a friend over and you can actually hang their coat up for them without being embarrassed? Or how about being able to use that space for what its intent is: for coats, gloves, hats and shoes? Roll up your sleeves…it's time to clean out the coat closet.
Take out everything that is in your closet and clean it out, get rid of things you don't use and only put back into the closet that will belong in there. Don't forget to wash the floor on your hands and knees. It's the only way to truly get it clean.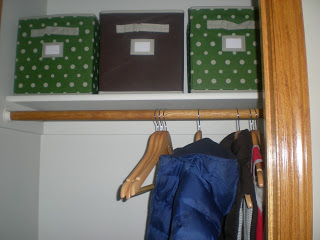 On the top shelf is a good place to hold bins of quick-find, items, such as gloves, hats, soccer pads. I found these bins at Home Depot. They carry the Martha Stewart, brand and I thought these were perfect!
I also bought wooden hangers for the front closet. It is nicer looking than the plastic variety and gives it a clean look. See the space I have to hang the coats of my guests? I'm excited!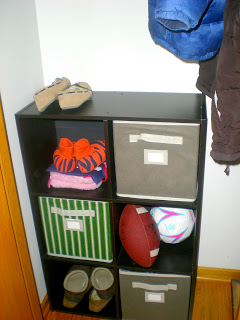 Here is what I bought for the bottom of the closet…is holds bins and shoes/gear, etc…
This works perfectly for our family. It holds mittens, hats and slippers and some other things quite nicely. I also got this at the Home Depot. Coats can still line up above it and I have a fully functioning space below.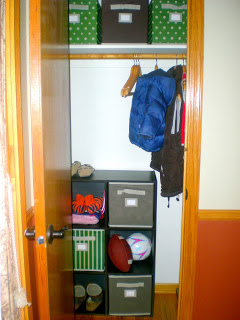 This is a view that gives you the whole look of the closet.
Ready for guests!
So dig out all that clutter and get it organized to be used at its best.
You are getting your home organized, room-by-room! We're doing it!