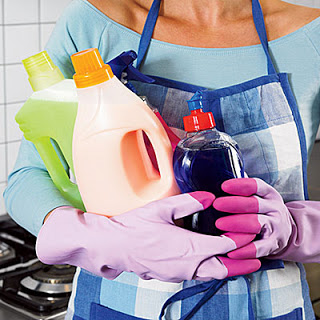 Let's do this, ladies! Time to move to another room and hope you got your laundry room all squeaky clean and organized. Now it's time for that back hallway. My home was not designed to have as many people we have…so my back entry looks more like the one from, Cheaper by the Dozen. But I managed to get it all cleared out, organized, and all put back in. It may not be the back entry of my dreams, but at least it's clean! Getting organized in 2011 never looked so good…here's some tips, if not just a push, to get you going getting that back entry, cleaned.

Purge! Get all the mismatched gloves, worn shoes and jackets that have seen better days put in a pile for trash. Another pile can be started for charity for items that are in good condition and not worn or wanted. The rest is to be put back in a more organize fashion.

Winter gear. Obviously it all depends on the size of your family and the size of your closet, but I keep my winter gear in separate bins in the garage. One bin for snow pants, hats and gloves, another for boots. (That's for another post!) So get all that out and organized to make room for the lighter gloves and scarves that are used for more everyday errands and your ice skating adventures. In the photo of my back closet,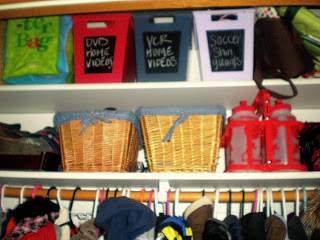 I have some gloves in one basket and hats in another. At the top shelf are bins that hold our soccer shin pads for 3 different kids, and some media goods. The chalk board bins are the best so you can change what is in it and rewrite as quick as you can erase.
Get those shelves washed down and get it organized.
Get those coats back in…I could not believe how many jackets, coats, vests we have collected over the years! I calculated about 10 outerwear pieces per person. 10×9=90…good heavens that was a nightmare!

Shoes. The floor is where all the shoes are and we have about as many shoes per person as coats. Again, another nightmare. I had to do some brutal purging and giving/throwing away. Once completed and the floor washed clean, and tubs to keep shoes tidy, put back in, it looked a lot better. I use the larger chalkboard bins and everyone has their own spot for their shoes. The 3 younger children share one as their shoes are smaller and fit. I have 4 bins total that fit into the closet quite nicely and me and my husband's are just on the floor by them. Big snow boots and such are also in their own bin in the garage.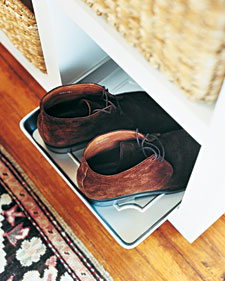 This is a Martha Stewart idea that I love and use for my husband. He is in and out in the snow and this is a way to keep his shoes warm and they can dry onto something other then my floors.
Using an old baking sheet and smaller cooling rack, this makes for a great drip-dry place for boots. I keep this in my laundry room for him for when he needs it. My kids keep theirs in the garage on a rug (Okay, who am I kidding. Their boots are scattered all over the garage. But in theory, they are to be lined up on the rug.)
Project back entry begins, ladies…get going!