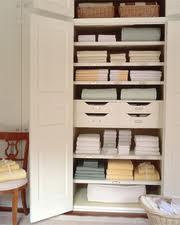 It's time to clean out that linen closet, Planner Perfect, ladies. Some things needed to do when organizing your closet is purge, clean, and reorganize.
But first things first! I write down all that I need to get rid of and what I need to replenish. Don't start pitching things in disgust only to find, later, you don't have any more bath towels (I'm speaking from experience!). Get rid of anything that hasn't been used, too worn, or you just don't like anymore. If you can live without the replacement now, get rid of it. Do this with the rest of your closet, giving gently used items to charity and too worn in the trash. I kept 2 garbage bags for the two destinations
I have a clipboard that I keep handy for organizing occasions such as these. For organizing around the house and wardrobe checks for spring and fall, I take my clipboard that holds my reinforced paper (of course!) and write down what I would like to get new, baskets to hold toiletries, and/or anything else I feel I need to keep my closet looking fresh. Put a header at the top such as *Organize Linen Closet*. If your towels have seen better days, write down how many you'd like to get, and what new color, if you so choose. Same with your bed sheets. You deserve fresh items in your linen closet, if they are worn and have seen better days. Remember the Law of Attraction… don't say things like "I can't have that or I will never own that." If you think with limited belief you will have a limited life.
This is what sets Planner Perfect above any other method of planning out there…it is set up to attract your desires, needs, wants, goals.Get writing down what you'd like new, down to how many you want/need, where, and color. Being this detailed is getting you halfway there. It is a statement of intent.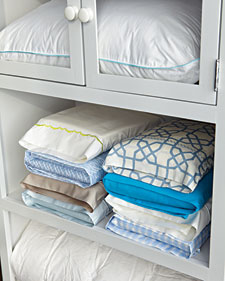 Tip and photo taken from MarthaStewartLiving.com
One tip for your sheets, is to keep each folded sheet set in its pillowcase. Keep that pillow case, folded and neatly placed in your linen closet for a quick sheet change in minutes. No more looking for its matching pillowcase…it's all in one spot. Stack them on your shelf for a more organized look.
Baskets keep loose items neat and pretty such as toilet paper and toiletries if this is where you choose to keep them, along with bath towels. If not, baskets can be under the sinks in the bathrooms, along with your towels. For me, mine is large enough to hold sheets, extra blankets, towels for one bathroom and toiletries. Just customize to what you have keeping the same organized premise.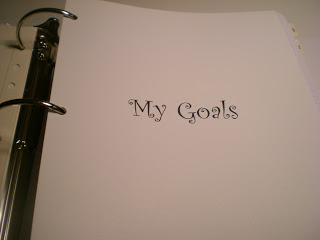 Once you get everything back on your shelves and organized, you now can take your paper on your clipboard and put it in your month's goal section of the month you're working in. This keeps you organized with what you want and need for getting that linen closet the way you want it.
Now to execute! According to how much you need and your budget; I like to speckle shopping days within my weeks (in my calendar and on my daily pages) when budget allows. If you can afford to do it all at one time, go for it. But if little-by-little is what you need to do, then Planner Perfect can help you tackle it when you can.
With these tips for your home and your linen closet…Organize 2011 with Planner Perfect is well underway. Have a good time organizing your home and using your planner to harness these goals. Remember that tackling on the spot hardly works…take the time to write in your planner when you can set aside a couple hours to get it done. That way, you feel good about it when you're doing it instead of feeling like you are sacrificing something else to get it done. When you plan it, first, you are allotting time for it which means you are being organized with your time.
I would love to hear how your linen closet organizing goes, and if you have any tips I could add…