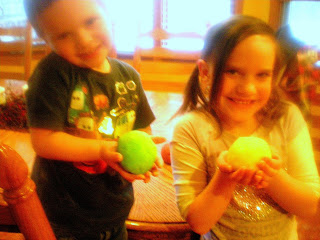 Do you need some boredom-buster ideas?
This Family Fun play-clay is fun and entertains little ones for hours. This recipe is the best one I've tried–add food coloring and you've got wonderful colorful fun!
This recipe makes 4 softball size play-clay as shown above.
Ingredients:
2 cups all-purpose flour
1 cup salt
1 tsp. cream of tarter
2 cups water
2 tsp. vegetable oil
food coloring
Mix the flour, salt, cream of tartar, water, and oil in a saucepan. Cook over medium heat until it holds together (keep mixing or it will stick to the bottom fo the pan). When the clay is cool enough to handle, knead it on a floured surface, divide it into smaller balls, and add a different shade of food coloring to each ball.
(I used small plastic bags on my hand to mix the food coloring for mess/stain-free hands!)