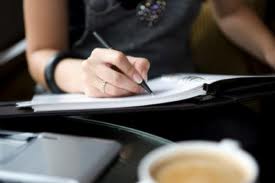 Journaling is a wonderful way to get everything that is on our mind down on paper… it's like a release of bottled-up thoughts, fears, worries, joys and concerns…
One of my favorite books is by Stormie Omartian, The Power of the Praying Parent. This book is filled to rim on all the reasons why we should be trusting God with our children and releasing the power of God's hands through prayer to move for our children. Leaving them to chance is not an option! From her book:


"God gives us authority on earth. When we take that authority, God releases power to us from heaven. Because it's God's power and not ours, we become the vessel through which His power flows. When we pray, we bring that power to bear upon everything we are praying about, and we allow the power of God to work through our powerlessness. When we pray, we are humbling ourselves before God and saying, I need your presence and Your power, Lord. I can't do this without You. When we don't pray, it's like saying we have no need of anything outside of ourselves."
This is powerful! And one of the ways we can organize our prayers for our children is to begin with a personalized list.
In her book, she suggests writing down a list for each of our children; not for just the pressing issues at hand, but for their future as well! The Planner Perfect, planner is set-up with a journal section and harnesses these lists for our children, beautifully. This is perfect for when we want to add to our list and where our prayer lists can be easily assessable for us when we have our quite-time with God.
"The battle for our children's lives is waged on our knees. When we don't pray, it's like sitting on the sidelines watching our children in a war zone getting shot at from every angle. When we do pray, we're in the battle alongside them, appropriating God's power on their behalf. If we also declare the Word of God in our prayers, then we yield a powerful weapon against which no enemy can prevail."
~Stormie
Moms. This is a must-have, book. You will read it over and over again and be encouraged. No longer do we need to feel as though we're alone in raising our children, nor do we need to parent in fear. God is there. We need to have faith that He loves them more then we do and give them daily in prayer over to God; trusting in Him.
Use your journal, Moms, create lists for each child, and pray daily for your children. Do not leave them to chance one more minute…
*Therefore I say to you, whatever things you ask when you pray, believe that you receive them, and you will have them.*