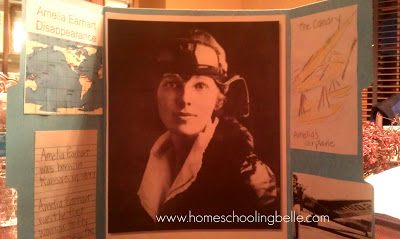 We are new to Lapbooks and I absolutely adore them! What a fun way to learn. I introduced to my children, Amelia Earhart. They knew of her, but we wanted to dig in and get a lot of the details. I am in love with her story and read aloud some fascinating facts about her life.
Making a Lapbook about her was so fun to create. We found a great photo of her and glued that right in our center. Wrote some great facts about her on the left side, with a map of her adventures around the world that was cut short. She only had 7,000 more miles to finish out of the 22,000 miles of ground she covered to accomplish her, round the world travel. On the right side of our lapbook the kids colored her plane, The Canary, and an image of her with her plane, too.
I have her biography, East To The Dawn; I've just begun and it and I'm excited to finish. This book is great for teen book clubs.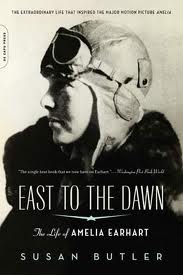 great for teen book clubs or moms!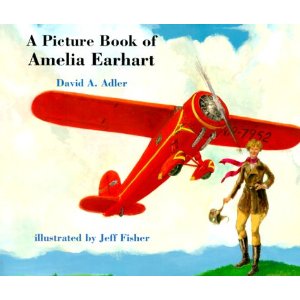 fun children's book on Amelia Earhart
This book is a fun one for young ones that I'm sure you could check out at your local library. Have fun reading this with your children, first, before starting your Lapbook.
To assemble:
All you need is a folder per child, open it up and fold each side in half creating a nice booklet, like the image of mine below. There are a lot of different options to create Lapbooks, you can check them out on-line and on Youtube.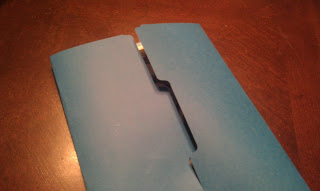 fold each side in half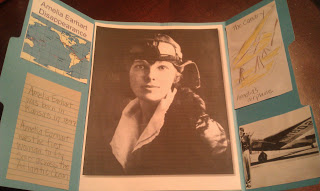 open to create a book on a subject of your choice



Here are some great links to share with your children…
Fact About Amelia Earhart's Plane
Amelia Earhart
Amelia Earhart
Fun facts and games
I encourage you to introduce Lapbooks to your children if you haven't already. Mine love it!
Amelia Earhart's Movie Trailer. Check for rating for your younger viewers…