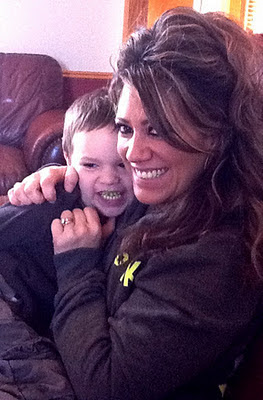 Me with my youngest son, Brock
The New Year is fast approaching and I can't help but be filled with excitement! I love the new year with its fresh slate; an opportunity for do overs and fresh beginnings. I'm inspired to be better; to do better, than years past and am thankful for God's grace.
For 2012, I look forward to scripting all of my ideas, my dreams, my changes, my second chances…
I remember when I was a young teenager and my sister was only around seven; we sat in my bed late one night before the new year and wrote out our dreams and goals. We wanted to keep these letters of dreams in an old shoe box until the following year where we could read all we'd accomplished, or the goals we didn't quite reach. We put our letters in a box, closed it shut, and slid it under my bed until the next year.
But the suspense was too great!
We opened our letters, tearing open the box only after a few moments; we wanted to read what each other wrote and sat there in our pajamas, giggling on my bed, with our swapped letters, reading in delight of each others hopes.
Memories…
I may even have my children create goals for their year and put them in an old shoe box to open in the year 2013. Will the suspense be too great? I guess part of the fun will be in finding out!
I am thankful for those that inspire me in my life; that reach beyond ordinary and live nothing short of a full life. They keep me in check, because I know in order to live a life God has called me to live, I need to be continually, aspiring to be all I can be.
Thank you for your readership, friends, I have enjoyed our conversations and meeting of new friends, too. I am excited for a fresh and exciting new year with Planner Perfect and Planner Perfect Meals; it will be filled to the brim of inspiration and some of my favorite recipes for you to enjoy.
May you all have a wonderful time scripting out your New Years goals and aspirations for 2012…
I hope you have a shoe box of dreams!