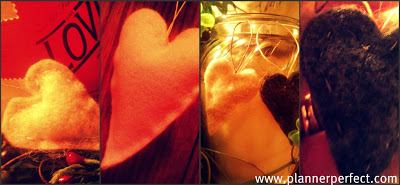 I saw an image of these on Pinterest and fell in love. They are so pretty, make a cute gift and adorn candles beautifully. I stitched mine in cream and grey, sewn a loop of jute at the top and tied it around candles in my home. Beautiful!
My 8-yr. old daughter, Bella, made a pink felt larger heart and it hangs from our front door. This is a great project to help children do simple stitching; she had a great time!
felt pieces found in your local craft shop (they come in rectangular shapes). I used grey, cream, and pink
needle and thread
cardstock to make your heart
pencil
jute
poly filler (filler for pillows and crafts found at craft stores)


Create a heart shape out of cardstock in the size you like. Mine were fairly small. Take your felt, fold in half and pin your cardstock heart onto your felt. Cut around your heart.

Thread your needle. I used a contrasting color to the felt color. For example for my grey heart I used a cream thread.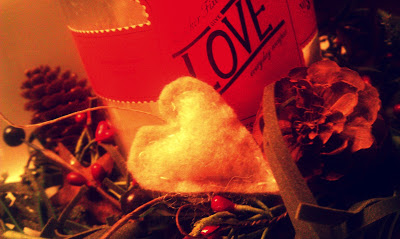 Start at the bottom point of your heart and when you reach the top, join your jute, by taking a small 6-7 inch piece, fold over and knot. Stick the knot end in the top of your heart between the two heart felt pieces and stitch around until you have a small section left to stitch. Stuff with your poly fill and using a thin stick or butter knife, stuff until it is nice and puffed to your liking. Stitch to the end and secure with a knot. You've got your self a beautiful felt heart! Perfect for Valentines day…