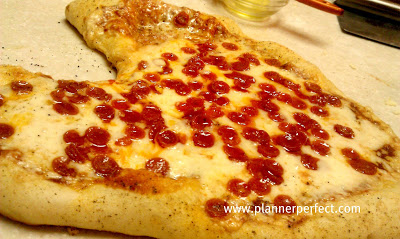 Say you love them with this heart shaped pizza
I love making pizza for my family because it is such a crowd pleaser.

And this pizza says it all on Valentine's Day by first, being so cheesy, and second, being so stinkin' adorable, and third, it absolutely says love with it's crispy, garlicky crust.
This is my all-time best, pizza crust, recipe, my all-time best, pizza sauce, recipe, and has been stamped with approval by my hungry husband, four starving boys, and 3 picky girls. This recipe will be your new go-to, recipe, every time.
Step aside Little Caesars, Mama's got this one!
The scoop on how to make this heart shape pizza:
To make the heart shape, I use a baking stone set real hot at 500 degrees.
Dust a pizza paddle with cornmeal.
Roll out a circle out of a section of the dough and cut out a "v" out of the top of the circle to create the humps of the heart.
Place it on your dusted pizza paddle and scoot onto the stone to lightly brown for only 5-8 minutes. This is how to ensure it stays the heart shape.
Once done, I take out and top with my family's favorite toppings, toss back into the oven until the cheese is melted and crust is crispy.
***If you don't have a stone, no worries, shape the same way only dust a baking sheet with the cornmeal, place your heart shape dough on the sheet and add your toppings. B
ake at 475 degrees until crust is browned and cheese is melted.***
Happy Valentine's Month!