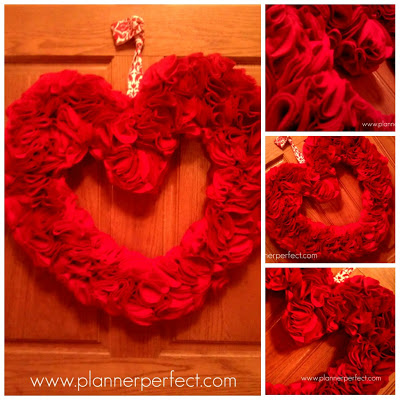 Valentine Wreath Tutorial
I made the wreath from the tutorial I featured earlier this week and I think it turned out amazing! Especially considering the fact I could not, for the life of me, find a heart styrofoam wreath.
Because I was so determined, I found a flat 1-inch thick piece of styrofoam at Hobby Lobby, that I cut 2 half hearts out of, and glued them together using a hot glue gun. My heart measured approx. 18″ x 18″. The perfect size!
Then I cut out 3-inch circles out of red felt, folded them in half and then in half again, and pinned them onto the wreath. I covered mine on the inside and outside of my wreath, covering all styrofoam. It is gorgeous!

Hung from a beautiful ribbon and displayed on my front door I'd say our family is ready for Valentine's Day!
Click here to be taken to the Idea Room, where I first found this tutorial, for more information on creating this beautiful wreath you can pull out year after year.
Hugs,