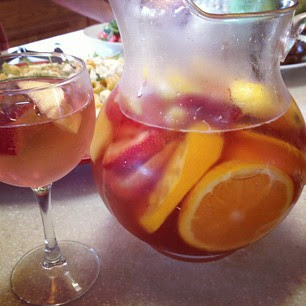 Sangria for Friends
Nothing is quite so satisfying and enjoyable than making lunch for my girlie friends and sipping sangria! If you haven't tried, a sangria is a delightful mix of club soda, your favorite wine and fresh fruit and a little sugar.


It's simply delicious!


I have treats and snacks for the kids and serve a full lunch menu, including Hot Buffalo Chicken on Salad Greens, Herbed Bread Sticks and for dessert, Strawberry Shortcake served in Mason jars. We used cloth napkins and fancy glasses for us moms, because we're more than worth it, of course!


Moms always need to plan this time together and what beats being together with wonderful foods, and being able to enjoy each other while our kids are busy playing!


Two birds. One stone.






Here's my recipe for my Sangria:


Ingredients:
1 large pitcher (the prettier the better!)
Fresh fruit of all kinds, sliced: oranges, strawberries, lemons, apples, kiwi, and peaches to name a few
Club soda or Canada Dry
1/4 cup sugar (add more to taste)
Wine. Your favorite. I love white and blushes and used my favorite blush here


Pour both the wine and club soda in your pitcher
Add sugar and all your fruit


Let stand in your refrigerator for 1/2 hour to an hour before guests arrive. (Or dinner is ready!)


I pour into wine glasses and using tongs retrieve some delicious fruits to swim in their glasses.


Enjoy my friends. Enjoy.