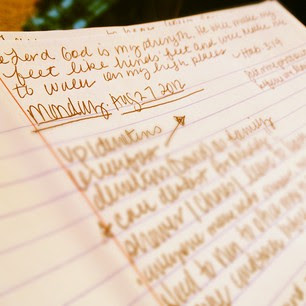 "Let not mercy and truth forsake you; bind them around your neck, write them on the tablet of your heart, and so find favor and high esteem in the sight of God and man. Trust in the Lord with all your heart, and lean not on your own understanding; in all your ways acknowledge Him, and He shall direct your paths"
~Proverbs 3:3-6
It is so important to memorize scripture.

With such a big family and busy life, I used to put it last; whenever I could fit it in.

Not anymore.

I realized that I could not do anything without God. I was missing out on all that He had for me, I was missing out on His Plans. I was… leaning on my own understanding.

I can dream bigger with Him.

I can live better with Him.

I can do so much more with Him!

God has so much in store for us! Dream big, and pray continually.

Scripting verses at the top of my Planner Perfect's planning pages keep God's Word in my heart, in my mind and in my soul. It makes for a better me and when I quote God's Word in my day, it activates His power.

My Mom always scripted a verse at the top of her planning pages. Her favorite was and still is.


"For this is the day the Lord has made, we will rejoice and be glad in it."
Psalm 118:24.
She scripted her verses that she wanted in her her heart in her planner when I was growing up.

Taken from, Behind the Pages, on Planner Perfect's blog:
"My Mom is a life planner and always has been. I remember her writing her favorite scripture at the top of her planning pages and dreaming about her goals and our family's goals. Every day she would sit in her favorite chair, and write and write and write. She was a visionary for her life and an extraordinary woman who took her motherhood seriously and made a choice to be the best she could be, and all she could be as a mother. This life goal could not be left to chance and she made a point to plan a life of joy and purpose."

The Planner Perfect planner is perfect for scripting your verse for the day. When in your Bible with God in the morning, write the verse you want to keep close to your heart for the day written at the top of your daily page.

It keeps God in your heart all day long.

Make it a point to recite God's Word throughout your day by keeping it at the top of your Planner Perfect planning pages.

Recite it, memorize it, and activate God's Word through prayer.

When you plan: create goals, and dream big…God must be at the center of all your planning. You will succeed; God wants us to dream big, to reach for the impossible. It stretches our Faith. If God wanted us to stay mediocre we wouldn't need Him!

Evening, and morning and at noon I will pray, and cry aloud, and He shall hear my voice.

~Psalm 55:55:17

Script your verse atop your planning pages and keep God's Word in your heart
all day long…