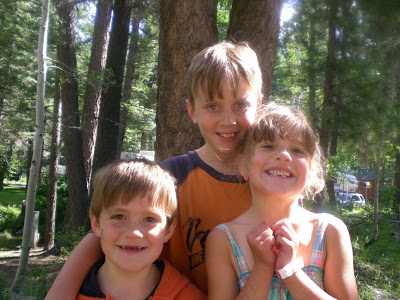 Frogs. Tents. Bugs. Oh my!
All my friends say that if they ever found out I went camping in a tent, they would have to see it to believe it. And they're right. I am not an "outdoor girl". I don't like to sweat, and bugs give me the creeps! I definitely do not like the idea of outhouses, and public showers offend me. However, I am married to a man who loves the outdoors. He would have the time of his life with just his tent, water, and wild berries. He has been trying to get me to go camping for years. Until finally, one summer day, he talked me into it. I mean after all, change is good. I can learn to love the outdoors and appreciate that nature has a lot to offer our un-schooling, family.

The preparation to go on this trip was a huge undertaking. My husband was busy spit shining his canteen from his Boy Scout days, and the kids and I packed, well, everything else. There was packing food and planning the meals we would eat, clothes, and toiletries. I was so busy helping all my children pack that I was afraid that I might forget something for myself. Something forgotten as simple as my curling iron or my make-up would, without a doubt, ruin the trip for me! I had my planner laid out on the counter with everything I needed to do to make this camping trip a fun, learning experience for our children. It turned out to be something very different.

It was hot that day and we found the perfect camping spot. It was one of my husband's favorite places and was excited to share it with us. I would have to say; it was beautiful. There were big trees to shade our abode for next few days, and a nice breeze, thanks to the beautiful lake that glistened in the hot sun. We also were camped right next to the marina, which obliged me in electricity, showers, and decent restrooms. My husband, whom is seasoned in tent camping, wasted no time and got started teaching our children how to pitch a tent. Meanwhile, I started rummaging through my designer, luggage bag to see if I had remembered to bring my sweat resistant make-up. Finally, after everything was unpacked, and the tent pitched, I looked around and my husband was no longer in my view.

"Great." I express aloud with my hands on my hips. "I'm hot and he decides to look for berries?"

In a distance, I see him dragging back, what looks like, half a tree!

"I have found our firewood!" He exclaims excitedly.

I shook my head, not sharing the same excitement, and immediately got to work on neatly, putting on my Ralph Lauren sheet for my air mattress, and rolling out my Eddie Bauer sleeping bag. Soon after, my daughter, Belle, just 3 years old, ran screeching with delight, holding a frog. Her grip was so tight his poor eyes were bulging. My husband ran to the scene and he explained to all our children who wanted to listen, everything there was to know about bullfrogs; from what they eat, to how they carry their eggs, why a bullfrog's skin is smoother than a toads, and most importantly, what we should name him.

I poked my head out of my tent to get a closer look.

I noticed the fun they were having together; learning with their dad. Outdoors. He was sharing what he loved with them and they were enjoying every minute. That frog was just the beginning of our adventures. We spent our days fishing, riding bikes, swimming, finding fossils, and identifying strange bugs and wild berries. By nightfall, my husband taught us how to start a fire (using branches from his half a tree he'd discovered), got a lesson in astrology, and taught us how to roast the marshmallow just right to build the best s'more, ever.

That camping trip was not only a wonderful learning experience, it made memories. This was just the beginning of our camping adventures. Soon we upgraded to a camper (yes!), and we travel all over, from South Dakota, to Colorado, to many places in between. And we camp probably every other week all summer long.

Crazy? Yes. Yes it is. But you know what? It's been 100% worth it every single time.

Un-schooling is like our camping trip where learning is all the time; it is a very natural way to learn. And camping provided a great way for us to learn as a family, which compliments our un-schooling. Don't get the wrong impression. I have not ditched the curling iron and sweat resistant make-up while camping. But, I have fully embraced camping, being in the outdoors and taking in the beautiful world God made; with the sweet, sweet, comforts of my camper.

It's a way of life for us now and have learned that anything worth pursuing takes a little bit of crazy, a lot of prep, a large dose of patience, and of course it all happens and made simpler with a plan.

In the end, it was I, who truly learned the most. I was learning about nature through my husband's eyes, and I liked what I saw…frogs, tents, bugs, and all!


Click here for all my tips on camping with kids.

Have you had successful or not-so-successful camping trips with your family? Do tell…