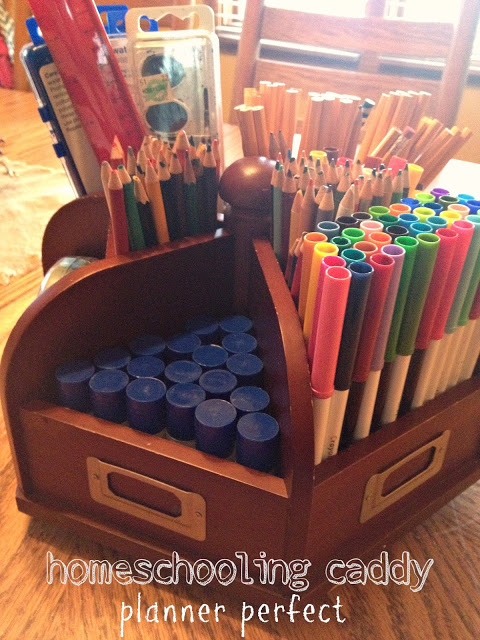 Homeschooling has officially started. Our individual learning goals as well as our goals we want to do as a group are all written in my Planner Perfect planner and keeps this unschooling family organized and on target for the year.
We made this caddy to keep out on the table while we work on various projects and text books so we have all that we'll need right at hand. This caddy is from Pottery Barn Kids, but I've seen the knock-off at Micheals and other craft stores. What's great about it is its compartments. There's a ton of them! It keeps our markers, pencils, colored pencils, watercolor paints, rulers, glue sticks and scissors, easy to find. If you can't find this caddy, a plastic caddy with a handle in the center will work well too to keep your homeschooling supplies organized.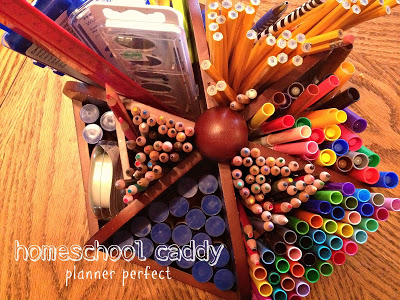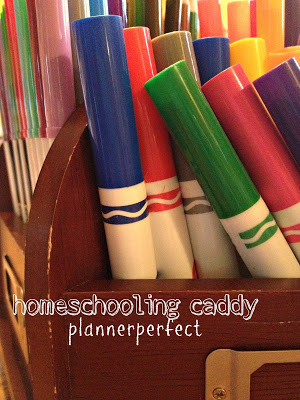 We love this easy to transport, caddy. It can be taken to any place in the house that we do our studies and projects and is filled to the brim with brand-new supplies to keep little and big hands, busy.
Watch my video below on we we plan our unschooling school year…
How do you keep your homeschooling organized?