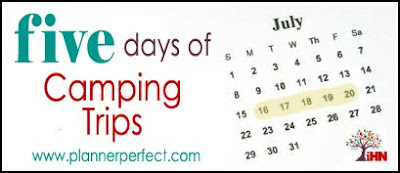 iHomeschool Network and I bring you five days of great tips. Mine? Well, mine are camping tips and I think your going to love them.


Before we begin, I must confess, that I'm not a huge outdoorsy kind of girl. I mean, I love the outdoors don't get me wrong; it's just camping is a whole other world. We're talking bug spray, hiking shoes, sweat, and outhouses, to name just a few.


I love perfume, I prefere to not sweat, like clean beautiful restrooms, and quite frankly need a curling iron. But I knew that this was going to be apart of my life, at least for a little while, my husband is an avid outdoorsman, Cabela's kind of guy. Not to mention, after our first tent camping trip, my children were hooked! They were having such a great time discovering the outdoors with their Dad, traveling to different camping spots, and making memories, that I didn't want to take that away from them.


I needed a plan.


I wanted to create a plan that was going to keep me organized, everyone happy, and create memories.


My family and I have been camping for years and have now upgraded to a camper (thank heavens) but whether you are thinking about camping, camp in a tent, camper or RV…I know you'll find these tips useful.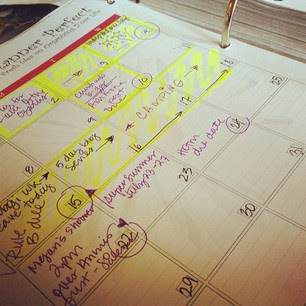 PP custom calendar within Planner Perfect Planner


My first tip: to plan! This is no time to fly by the seat of your pants. You need to get in your planner and map out your departure and in write out the details of your trip.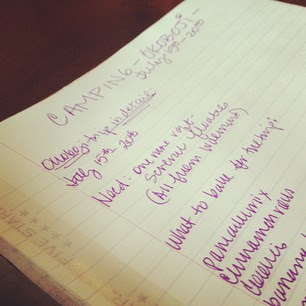 Goal pages of the PP Planner


The Planner Perfect Planner harnesses goals and scripted plans, beautifully. Write down your trip destination on the top along with the dates you'll be gone.


Here is a brief outlook on what I am going to share these next 5 days so you can be one organized, Planner Perfect, Mama:


Prep:
What do you need to get done to prepare for the trip? This is the first thing you write down. In detail.


Clothes:
How to be organized with your family's wardrobe on your camping trip. So you can be organized.


Meals:
How to meal plan. Tips on delicious meals, that are easy to prep and prepare for your camping trip.


Stock camping items:
Items that make for a fun time are essential when packing for your kids on your camping trip.


Tent camping and camper/RV camping tips:
Great tips on how you can be organized and prepped for easy camping.


After the trip:
Honestly this can be a tough one if not organized. There is a lot to unload, a lot to wash, and if you're not organized with this one, will overwhelm you. I've got some tips up my sleeve.




There is my outlook for the week of camping! I know you're going to find these tips useful:)


Visit my friends over at iHomeschool Network for more tips on this 5 day adventure of helpful and useful ideas and tips!