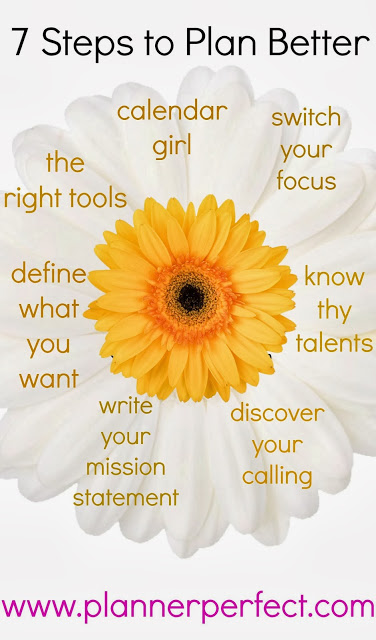 The Planner Perfect Method was created and designed as a way to inspire women to stop the dead-end quest to be organized by just corralling the endless tasks that consume our lives. I will teach you how to switch your focus and become a better planner by allowing your goals and dreams to be your focus. Tasks will take on a better role, because they certainly have their place, when you look at them differently; as not your whole life.

When we are driven by our goals and dreams, organization is its residual effect.

When applying the 7-Step, Planner Perfect Method, you will be an organized woman in all aspects of your life; you will be driven by your Mission Statement, your goals, and your dreams, and your tasks will be completed.

I have created a unique set of life planners for women as a tool to harness this kind of life. By adopting the Planner Perfect Method and Planner, you will stand out in a crowd, you will be confident in who you are and where you're going, and you will embrace and take back your motherhood, homemaking and life again.
Introducing Planner Perfect's 7 Step Method to plan better and become more…

1. Calendar Girl
It's time to let your calendar take a backseat. No more carrying around a small calendar, living life around by your activities and appointments. It's time to write out monthly goals with details and script your days on plenty of paper. This is the first change you need to make in order to plan better and become more.

2. Switch Your Focus
Stop being a slave to your tasks. You become more when you switch your focus from following just and only your tasks. Take the burden off your tasks to identify who your are! You are more than your tasks in life. Knowing your calling and creating goals around it, keeps you focused on what gives you personal growth. Now that is better planning!

3. Know Thy Talents
Discover what you're talents are and use them. If you think God skipped you, you are wrong! If you haven't discovered your talents begin thinking about what you love and go from there. Using your talents for our own fulfillment and to share with the world is vital in becoming all you can be and to find pleasure in life and what God has given you.

4. What is Your Calling?
Within our talents we find our calling. I'm not talking about being our children's mother, that is our duty. Your calling is under a different category, something that is for us, and what we were meant to do, to help and serve others outside our motherhood. Understand that not everything we're good at is our calling. I used to think that the several things I was good at was what I needed to focus on. Not so. I've learned that that just makes me mediocre at lots of things and a master at none. Focus on that one thing that you love that you've been called to do and become a master at it. Praying for God to reveal what it is He has called you to do is how we can define our purpose.

5. Write a Mission Statement
If you haven't written a mission statement for your life, this is the time. What a mission statement can do for you is help define what you were called to do and to help keep your focus and hold you accountable. It's easier to say no to activities that do not align with our calling. We could literally fill up our days with too many other things that can actually pull us away from our mission! The Planner Perfect planner comes with a beautiful Mission Statement sheet for you as one of the front pages of every planner. This will keep you held accountable to a plan better and become more.

6. Define What You Want
This is imperative in planning better. We need to know what we want! Think about your life as a whole, be a visionary for your own future, and know how to define what you want. This will make you a better planner because you will have an objective, an aim; a purpose. Your prompt each month to set goals will need you to know what you want.

7.The Right Tools
This is as important as the planning itself. Without the proper tools, we will be disorganized with our thoughts and uninspired. Here are a list of my favorite tools to plan better and become more:

Loose-leaf paper. This is so important! I filled the Planner Perfect planners with loose leaf paper so you would have room to script your goals and write out your days. I don't like the confinement of little squares to plan, nor do I like prescripted formulas written by someone else, to help me plan. Being a visionary for your life mandates room to write! You can be a master at organizing all your tasks, but that is not good enough. In order to plan better, you need to be able to know and write your goals, and be accommodated with some crisp, white loose leaf paper.

Pens
You need to have good pens. And if you're a planner you know what I'm talking about. That ink better flow like honey and the pen look beautiful or I'm already uninspired to dream. Find the right pen for you and keep yourself stocked. I love the Paper Mate Flair pens in all different colors!

The Planner Perfect Planners
These planners are set-up just for a woman like you! For all women, in any season in life. They are equipped with all that you'll need to create a mission statement for your life, to have monthly goals, and have enough room to write out your days. The wonderful news is that this planner not only harnesses a life that aids you in pursuing your calling and your dreams, but keeps you organized in your home.

All purchases of the Planner Perfect planners will come with Planner Perfect's eBook as a pdf download. This eBook covers all aspects on you can become a better planner and teach you how to use the Planner Perfect planner to the fullest and the know-how on creating a planner for yourself!

You can purchase Planner Perfect's eBook, A Fresh Idea On Organizing Your Life, on Amazon Kindle here.

Here is a recap:


Calendar Girl
Switch Your Focus
Know Thy Talents
Know Your Calling
Write a Mission Statement
Define What You Want
The Right Tools
With these steps, you will be on your way to plan better and becoming more; you will be Planner Perfect…